Here is a list of some Homosexual Pedophiles that are (or had been) in key positions of power where they can access children and force acceptance of their wicked lifestyle
1. Terrence Bean, A gay co-founder of the gay rights group Human Rights Campaign (HRC) has been arrested for CHILD RAPE
https://www.lifesitenews.com/news/co-founder-of-leading-gay-activist-group-charged-for-abusing-minor
2. A gay hollywood Director 'Brian Singer' has been accused of sexually abusing a minor and organizing pedophile parties.
http://www.dailymail.co.uk/news/article-2836062/Bombshell-documentary-Hollywood-pedophile-ring-preying-child-actors-s-linked-X-Men-director-Bryan-Singer-premiers-New-York.html
3. James Rennie, chief executive of a publicly-funded gay rights group, was one of the men exposed yesterday as members of Scotland's biggest PEDOPHILE RING
http://www.dailymail.co.uk/news/article-1178354/Gay-rights-campaigner-led-double-life-leader-paedophile-ring-carried-catalogue-child-abuse.html
4. Neil Strachan, 41, the former secretary of a Celtic boys club and campaigner on homosexual issues, was charged with attempting to molest an 18-month-old boy, and sexually assaulting a six-year-old.
https://www.lifesitenews.com/news/chief-executive-of-homosexual-group-found-guilty-of-involvement-in-pedophile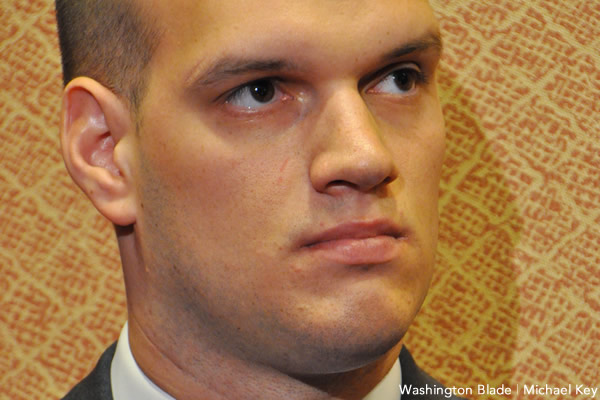 5. Gay Air Force Lt. Joshua Seefried, a prominent advocate for the rights of gays in the military, has been charged with sexual assault
http://www.washingtonblade.com/2014/12/10/gay-air-force-lieutenant-faces-sexual-assault-charges/#sthash.FdYJgM9O.dpuf
6. Nigel Evans, Gay British Politician Facing Sex Assault Charges From Seven Men
http://www.buzzfeed.com/mylestanzer/gay-british-politician-facing-sex-assault-charges-from-seven?s=mobile

7.Russel Stalk, The president of a gay rights organization (Stonewall Union) who recently received federal and local grants to fight anti-gay violence was charged with RAPE of a gay date.
http://www.holysmoke.org/sdhok/rape009.htm

8. Demaio, a gay politician and GOP hopeful accused of sexual harassment and sexual misconduct
http://www.cnn.com/2014/10/10/politics/carl-demaio-sexul-harrassment-allegations/

9. Gay activist, Walter Lee Williams pleads guilty to sexually assaulting boys.
http://winteryknight.wordpress.com/2014/09/10/gay-activist-pleads-guilty-to-having-sexually-assaulting-boys/
Here's a video of Corey Feldman admitting that Sodomite pedophiles RUN HOLLYWOOD and abuse children!